Overview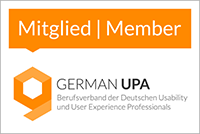 If you are developing software that interacts with users, our services will be of interest to you: Regardless of whether you're developing a product, writing code for your clients on a project basis or programming in-house software as a department in a large company – we can help you to make your software simpler, safer and more attractive.
Profile
A mixture of design flair and long-term experience in development and programming provides an ideal basis for our services. Consulting and analysis on ergonomic aspects is of course provided independently of the system platform in use. Our focus in implementation lies on the following systems:
Wire-Frames, Prototyping, Personas, Card Sorting, Cognitive Walkthrough
Classic desktop systems such as Microsoft Windows, Apple Mac OS X and Linux
Web-based interfaces in HTML, JavaScript and Java
Compact interfaces for hand-held systems and the Apple iPhone, iPod Touch and iPad
We use all the current programming languages for implementation such as C, C++, C#, Java, Objective-C and their corresponding libraries.
References
Our references include branded companies from diverse industries such as radio & TV, document management and telecommunications. Find out more on our page with References.